In Disaster, the Disability Community is Always Forgotten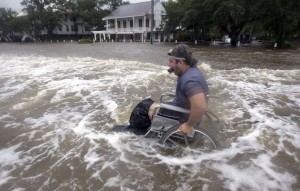 September is National Preparedness Month. In honor of that, I'm about to go on a full-fledged rant
Those who know me know that emergency preparedness, particularly for people with disabilities, is a flaming passion of mine. I have been volunteering in this arena in various parts of the country for nine years.
This week hasn't been a good one for those of us in Colorado dealing with devastating floods across our state. My ARES (Amateur Radio Emergency Services) unit was recently activated, so I've been volunteering at our local Red Cross doing radio communications between the Red Cross, state and local Emergency Operations Centers, and sometimes, shelters where evacuees have been staying. Dealing with this has once again brought to light a supreme frustration of mine--whenever I ask about the impact that the disaster has had on people with disabilities, I am studiously ignored.
I'm a fixture on Twitter and Facebook; I follow various government and nongovernmental agencies, as well as media outlets, tweeting and retweeting information to my followers when disasters and emergencies occur. I post and share information on Facebook, as well. Without fail, when I ask about people with disabilities, there is no response. Nothing. Crickets.
I can't get answers on anything--accessibility status on shelters, numbers of people with disabilities who have been evacuated, if or how people with disabilities have been impacted by disasters, numbers of people with disabilities involved in emergency planning or management, numbers of people with disabilities being served, or who volunteer to help out during a disaster - nothing! It's as if someone clicks on the ignore or the delete button when they see my question.
I've even gone so far as to explain that I'm not just any Jane Q. public asking the question - I'm a CERT (Community Emergency Response Team) member and instructor, as well as an amateur radio operator, and most importantly, a person with disabilities and a disability advocate and activist with good and valid reasons for asking the question. Still, what do I get in response? Crickets.
In fact, only one - count 'em - ONE public official has had the curtesy to respond to my weary query - Marcie Roth, Director, Office of Disability Integration and Coordination at the Department of Homeland Security/FEMA, who informed me that unfortunately, very few statistics are kept on folks with disabilities in disasters or in emergency management.
This doesn't surprise me, given that disability advocates around the country who try to become involved in emergency planning often face hostility from local government and served agencies. This hostility infuriates me especially when, according to the UN Office for Disaster Risk Reduction (UNISDR), people living with disabilities are biggest untapped resource for disaster planners. If an international body recognizes this critical fact, why do countless entities around our nation choose to remain close-minded, clinging to outdated stereotypes rather than accepting and utilizing our community as the vast untapped resource that we clearly are? It certainly wouldn't surprise me if this prejudice is a factor in why so few statistics concerning people with disabilities are gathered and maintained.
There are those who might say that I'm being harsh by asserting that prejudice may be behind the reason that so few statistics are gathered on folks with disabilities receiving aid or services during a disaster, as well as those working or volunteering in emergency planning and management. They might contend that it is simple oversight and nothing more. I'd be willing to go along with that if it didn't happen all the time or if I got responses from many more of those whom I've queried, even if that response is, "we don't know but we'll find out". Besides, even if oversight is the true answer, it begs the question, "why are we so consistently forgotten"? I'm sorry, but the excuse that "we forgot", or "we didn't think about your community" gets pretty doggone old after a while. It sends a clear message - you are useless and unworthy of being considered.
Thankfully, here in Colorado,
FEMA
has sent disability integration specialists to be on the ground and reach out to disability advocates, activists, independent living centers and served agencies, such as the Red Cross, to gather information on what is happening to people with disabilities during this most recent disaster. During task force calls each day, reports are given on problems that folks with disabilities have encountered. An investigation is performed and a resolution is offered and implemented immediately, if possible. Statistics can then be gathered and maintained and comparisons can be made to other events and areas of the country. This is a good start for us in Colorado and for FEMA, as well.
Still, I challenge government and nongovernmental agencies to bite the bullet and start consistently gathering and maintaining statistics on people with disabilities in disaster situations. I challenge disaster planners and emergency managers not only to consider our community as an untapped resource but to record the number of folks who are either employed or volunteering in the emergency preparedness field. I challenge community organizations and served agencies to keep a record of the people with disabilities whom you serve or who volunteer with you, including those being evacuated to, or volunteering in shelters. Finally, I challenge people with disabilities, themselves, to volunteer, recruit others with disabilities to do the same, keep your own statistics on who is serving and being served and submit your numbers to the appropriate agencies and governmental entities. Lets work toward the day when neither we nor our important contributions will be forgotten or ignored.
photo credit: mensliberty.com